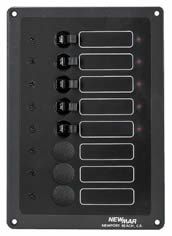 Electrical Panels – Accessory AC/DC
These versatile panels are ideal when only a limited number of electrical circuits are needed, or for larger systems where their modular design makes for an easy and attractive expansion of existing system capacity.
Stock panels with breakers installed come standard with DC indicator lights, but may be specially ordered with AC indicator lights. Blank versions of the panels have all necessary hardware to install indicator lights and breakers. All panels are provided with a circuit identification label set of 22 common on-board electrical functions is provided. Other more extensive label sets (up to 206 functions) are also available separately.
Learn More About The Accessory AC/DC Series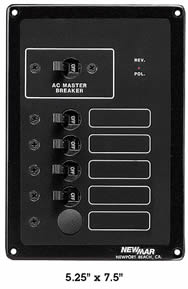 Electrical Panels – AC Master
Essential control/protection whenever AC from shorepower or generators is on board. A double pole master breaker with power on indicator light protects both hot and neutral legs of the AC circuit. A reverse polarity light provides clear warning when wiring is reversed and poses a shock hazard.
Single pole branch circuit breakers (Model AC-IX) and individual "ON" indicator lights provide control and protection of various AC loads. For 115/230 VAC applications – see ratings note*. A label set of common on-board circuits is provided.
Learn More About The AC Master Series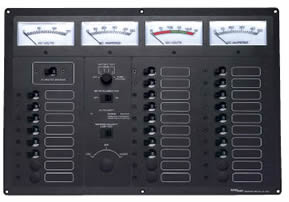 Electrical Panels – Elite Series
Learn More About Electrical Panels – Elite Series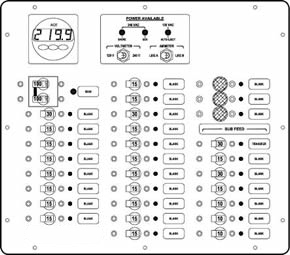 Custom Panel Templates – AC/DC
Built as Shown or Customized to Any Specification.
Learn More About Custom Panel Templates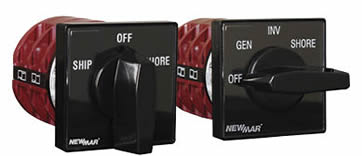 AC Source Switches
An AC source selector switch is an essential item for any vessel with an on-board AC generator and/or inverter. By isolating power source inputs, the switch eliminates the safety hazard and/or damage that can occur if two AC sources are applied to the same circuit simultaneously.
Learn More About AC Source Switches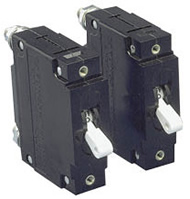 Circuit Breakers
All circuit breakers offered by NEWMAR are UL recognized and CSA listed for AC and DC systems and meet USCG requirements.
Standard Series: Single and Double Pole – "A" Frame Size
High Amperage Series: Single Pole – "C" Frame Size
High Amperage Series: Double Pole "C" Frame Size
Learn More About Circuit Breakers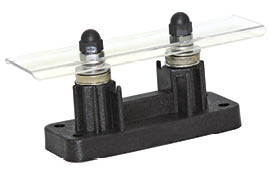 Panel Accessories
High Current Fuses/Fuseblocks
Essential safety item for all inverter installations and other high amperage DC circuit over-current protection.
Label Sets
Ideal for custom labeling of switch or circuit breaker positions on any NEWMAR or similarly constructed electrical panel.
Indicator Lights
Use as "circuit on" or service indicator light on AC or DC systems.
Panel Back Enclosures
Secure to the rear of many common electrical panels to protect crew against injury or panel against damage from accidental contact.