High Current Fuses/Fuseblocks
Essential safety item for all inverter installations and other high amperage DC circuit over-current protection.
Features
Heavy duty 500 amp, insulated, compact fuse block with corrosion-resistant 5/16" studs.
Secures to surface with two #10 flat head screws or bolts (not included).
Clear lexan cover insulates conductive parts, per ABYC/USCG requirements.
Accepts industry standard ANL tin-plated copper fuses. Purchase separately.
See-through mica element for easy identification of blown fuse.
| Model | Size (H x W x D) |
| --- | --- |
| AFB-500 | 3" x 6.25" x 1.95" |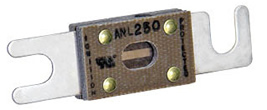 Fuse Models (numeral indicates amperage):
ANL-50, ANL-100, ANL-150, ANL-200, ANL-250, ANL-300, ANL-350, ANL-400, ANL-500 (All rated to 80 VDC)[/cs_text][x_clear][x_gap size="50px"][x_line style="border-top-width: 1px;"][cs_text]
AC Source Switches
An AC source selector switch is an essential item for any vessel with an on-board AC generator and/or inverter. By isolating power source inputs, the switch eliminates the safety hazard and/or damage that can occur if two AC sources are applied to the same circuit simultaneously.
Learn More About AC Source Switches
Label Sets
Ideal for custom labeling of switch or circuit breaker positions on any NEWMAR or similarly constructed electrical panel. White lettering on black peel-and-stick mylar. Label size: 1.75″ W x .5″ H
Click here for a complete list of available label sets.
Indicator Lights
Use as "circuit on" or service indicator light on AC or DC systems. Snap-in panel mount in 5/16″ hole. 6″, 18 AWG leads. 

Model
115/230 VAC Amber*
115/230 VAC Red
115/230 VAC Green
12/24 VDC Red*
12/24 VDC Green
* Standard replacement light for Newmar panels available in skin pack or bulk pack.[/cs_text][x_clear][x_gap size="50px"][x_line style="border-top-width: 1px;"][cs_text]
Panel Back Enclosures
Secure to the rear of many common electrical panels to protect crew against injury or panel against damage from accidental contact. Heavy duty ABS plastic. May be cut or drilled to suit wiring needs. (Intermediate mounting surface between panel and enclosure required)
| Model | Fits these Newmar Panels | Size (H x W x D) |
| --- | --- | --- |
| BE-855 | ACCY-IX, ACCY-IBX, AC-IX | 8" x 5" x 5" |