Battery Chargers – ABC Series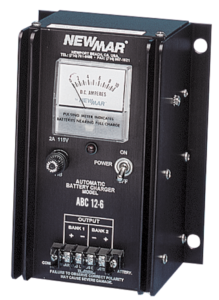 The ABC 12-6 charger produces 3 step output (bulk, absorption, and float) to 2 isolated battery banks providing fast recovery and ideal cell conditioning which maximizes battery performance and life. Its rugged heat sink case utilizes convection rather than forced air cooling, thus dust and moisture are not introduced inside the unit making it ideal for hostile enviroments
(For battery systems which require high continuous output, see our Phase Three Chargers 12V or 24 and 32V).
Features
Total output ammeter
Dual output banks
On-off switch and power "on" indicator light
Vibration absorbing mounting grommets
Powder coat aluminum case
115/230 VAC input selector switch
Auto-reset thermal overload protection
Conformal coating of circuit board
Convection cooled case, no fans. Ideal for high moisture enviroments
Specifications
Model
Input
Amps
Output
Dimensions
Weight
@ F. L.
Volts
Banks
Amps
(H x W x D)
ABC 12-6
5/2.5
90-130 VAC or
180-264 VAC, 50-60Hz
12
2
6
8″ x 6″ x 4.2″
9 Lbs.
Typical Charge Curves ABC Series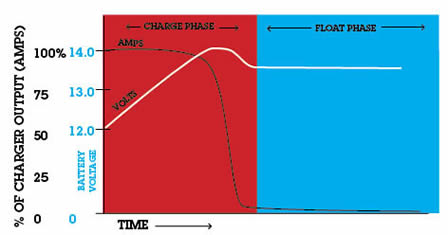 Duty Cycle Ratings: Rated Charging Output 20 min., derate to 50% for continuous output
Operating Temperature: 0 – 40˚ C
Float Voltage: 13.4 VDC