The Integrated Power System (IPS) is a unique multifunction power supply which incorporates built-in battery back-up and numerous power accessories within a single 2RU (3.5″) chassis, thus eliminating time-consuming system integration, component sourcing and installation, while saving precious rack space–ideal for 12, 24 or 48VDC power applications requiring AC fault tolerant operation such as GMDSS systems or any critical DC system.
A precision regulated power supply/charger, back-up battery, low voltage battery disconnect, output metering, LED status indicators and Form C alarm contacts are all pre-wired and calibrated within the unit for plug-and-play operation. Plug-in terminals are provided for easy wiring of an additional parallel rectifier input, or external batteries for increased back-up capacity.
The batteries are always in-line with the load, thus there is no interruption from relays or transfer switches in the event of AC loss. Batteries are recharged when AC is restored. A manual battery disconnect switch allows internal or external battery service or replacement while the system is running. Models available for -48, +24 and +12 volt applications.
Features
Precision regulated power supply simultaneously maintains batteries at peak charge and supplies system load
Built-in batteries instantly power load during AC failure–no switch-over delay. 3-5 year average life. Terminals provided for additional external batteries for increased back-up capacity
Terminals provided for easy addition of supplemental power via parallel rectifier (48V and 24V models only)
Automatic low voltage and manual battery disconnect
Numerous front panel monitors–L.E.D. status indicators and digital ammeter/voltmeter
Form C summary failure alarm contacts; loss of internal rectifier output, loss of external rectifier output, low voltage battery disconnect contactor open. AC input failure alarm contacts optional
Numerous protection features–AC input breaker, internal battery breaker, auto thermal shutdown/recovery, current-limiting, short- circuit and over-voltage protection
19″ rack, 6″ forward rackmount brackets provided
Specifications: Integrated Power Systems
Model
Input Amps
@ Full Load
115 / 230
Output
Internal
Battery
Capacity
Ground
Reference
Ground
Reference
VDC
Adjustment
Range
Supplemental
Input Port*
IPS 48-11
11 / 5.5
54.4
40-60 VDC
40 Amps
5 A-H
Positive
Positive
IPS 24-22
11 / 5.5
27.2
20-30 VDC
40 Amps
10 A-H
Negative
Negative
IPS 12-40
11 / 5.5
13.6
10-15 VDC
N/A
20 A-H
Negative
Negative
AC Input
Input Range (switch selectable):
115V = 92-130 VAC
230V = 184-260 VAC
Frequency: 47-63 Hz
DC Output
Voltage/Amperage: See Matrix above
Maximum Load with External Rectifier and Battery Inputs: 40 amps
Regulation: Line: ± 1 %, Load: ± 2 %
Ripple: ± 1 %
Power Scaling via Back Panel Quick Connects
External Rectifier Input: 24V, 48V only; 560 or 1,000 watt (see PM Series)
External Battery Bank: 12V/24V/48V
Environmental
Temperature Rating: -10° to + 60° C; Derate linearly from 100% load @ 50° C to 75% @ 60° C
Mechanical
Chassis: Aluminum
Rack Size: 19″ or 23″, 2 RU (3.5″)
Cooling: Forced Air
Dimensions: 3.5″H x 17″W x 18″D
Weight: 33 Lbs. (with batteries), 17 Lbs. (without batteries)
Protection
Current Limit, Short Circuit
Over Voltage
Auto Thermal Shutdown/Recovery
Input Fuse and Circuit Breaker
Circuit Breaker For Internal Battery
Low Voltage Battery Disconnect (Adjustable)
Internal Batteries
Type: 12 Volt, 5 A-H Sealed Lead-Acid, Maintenance-Free
Amp-Hour Capacity: See Matrix below
Weight: 4 Lbs. each; 4 Batteries per Unit
Approvals: UL Recognized, DOT and IATA, approved for shipment by air
Internal Battery
Constant Current Performance (Amps) to 1.75 VPC
MODEL
5 MIN.
15 MIN.
30 MIN.
1 HR.
2 HRS.
IPS 48-11
15.0
8.0
5.0
3.0
2.0
IPS 24-22
30.0
16.0
10.0
6.0
4.0
IPS 12-40
40.0
32.0
20.0
12.0
8.0
Indicators and Alarms
System "Nominal" indicator lights:
AC OK
External Rectifier ON/OK – Except IPS-12-40
Internal Rectifier On/OK
Battery Contactor Closed
System "Warning" indicator lights:
Check System
Battery Disconnected
Form C Alarm Contacts:
Summary Failure
AC Input Failure (Optional)
Metering
Digital Voltmeter/Ammeter on the front panel of the IPS may be used to monitor either system voltage (to the nearest 1/10 volt) or total rectifier (internal and/or external) output current (to the nearest amp). Meter accuracy is 1.6% ± one digit. Note: The meter does not indicate current coming from the battery.
Top View With Cover Removed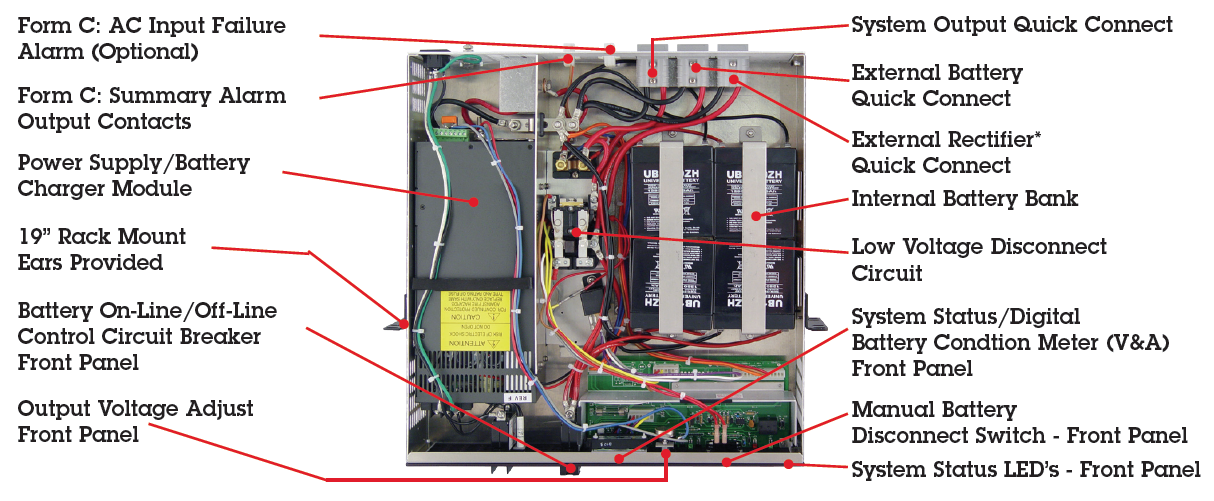 *24V and 48V models only
Options
AC Input Fail Contacts – Specify 115 or 230 VAC
Rectifier/Battery Input Cable Assembly (Model CA-24)
Rear Support Bracket for Flush Mounting Models: RSB-19 or RSB-23
DST-10 (UL), DST-20A (UL)
Unit Supplied Without Batteries