Circuit Breakers
All circuit breakers offered by NEWMAR are UL recognized and CSA listed for AC and DC systems and meet USCG requirements.
Standard Series: Single and Double Pole – "A" Frame Size
High Amperage Series: Single Pole – "C" Frame Size
High Amperage Series: Double Pole "C" Frame Size
Waterproof, High Amperage Surface Mount Circuit Breakers
Combines switching and circuit breaker function in one unit.
Compact size and surface mount configuration protects high amperage circuits at virtually any location: ideal for windlass, bow thrusters, high power feeds to distribution panels in boats and trucks .
Panel Accessories
High Current Fuses/Fuseblocks
Essential safety item for all inverter installations and other high amperage DC circuit over-current protection.
Label Sets
Ideal for custom labeling of switch or circuit breaker positions on any NEWMAR or similarly constructed electrical panel.
Indicator Lights
Use as "circuit on" or service indicator light on AC or DC systems.
Panel Back Enclosures
Secure to the rear of many common electrical panels to protect crew against injury or panel against damage from accidental contact.  

Terminal Strips & Bus Bars
Terminal Strips
Use as a common negative/neutral bus for AC or DC systems.
Bus Bars
Ideal as a DC ground tie point or positive bus.
Connector Strips
Molded nylon encases 6 or 12 pairs of connectors that use screw compression to secure wires without use of lugs.
RF Ground & Antenna Accessories

Copper Strap
Copper Screen
Ground Shoes
Antenna/Coax Switches
Microphone Spring Clip
Galvanic Isolators
Sacrificial zincs corrode away as they protect metal thru hulls, shafts and props from damaging electrolysis. Stray, low voltage current flowing between the AC safety ground and DC bonding system is a principal cause of this "galvanic" action.
Installing the Galvanic Isolator between the AC safety ground and DC bonding system, blocks a majority of the low voltage currents and corrosive action on the zincs is significantly reduced (while the integrity of the critical safety ground path is maintained.) This means a significant savings in boat haul-out fees and zinc replacement costs.
BX Series Splashproof Boxes
Ideal for making wiring connections above or below decks, even in areas subject to occasional spray
Similar to BX Series junction boxes, but made from rugged, non-corrosive, high impact polypropylene
Snap-on cover provides watertight seal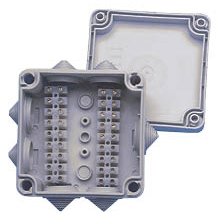 PX Series Waterproof Boxes

Provides for secure, protected wiring connections in wheel house or below decks and engine rooms. IP rating 54 – "Splashproof"
Rugged cast aluminum box with white enamel finish
Metal box reduces electrical interference
Electrical Enclosures & Cable Entries
These enclosures provide functional and professional protective cases for wire connectors, terminal blocks, relays, solenoids, fuses, etc. The corrosion-resistant polycarbonate cases are ideal for marine applications, and the deep cavity design leaves room for securing wiring and components and making connections. In addition, instruments, switches and panels can be surface mounted to the cover, as there is ample space for rear projection and wiring.
Waterproof Fittings Thru-Dex® Series

RA Series Right Angle Waterproof Feed-Thru Fittings
Route cables at 90° through vertical and horizontal surfaces with wall hugging low profile design
CCX Series Waterproof Feed-Thru Fittings
The entry hole is pre-drilled in seal with slit edge allowing feed through of cable with factory installed connector attached
DX Series Feed-Thru Waterproof Fittings
Provided with solid neoprene cable gland
Test Equipment

Digital Battery Analyzer
The Digital Battery Analyzer (model DBA+) is an essential tool for all DC system installers, technicians and battery dealers. Simple to use, it performs a complete analysis of battery condition in mere seconds, then displays conclusive data on a large clear LCD readout.
Electrical System Analyzer
The Electrical System Analyzer provides extremely accurate data on all major AC and DC electrical functions in a convenient hand-held device with large easy-to- read LCD display.
Phone-Com Systems

The Phone-Com intercom system provides direct, wired, point-to-point communication. Voice contact to any phone in the system is as easy as lifting the receiver and pressing the call button. Phone-Com operates on 12 VDC. They are constructed of high-impact plastic and are available in either bright white or traditional black. Bulkhead mounting bracket is provided.
Portable Radio & Phone Covers
AQ Series Waterproof Radio Covers
When the AQ Series waterproof cover is used for protection, hand-held
radios can be taken anywhere without being damaged by water, dust
or sand. Even total immersion will not harm the radio. These covers are certified waterproof to a depth of 33 feet.
Smart Phone Covers
Protect your valuable smart phone from the elements. Talk and listen right thru the case, cameras and touch screens remain fully operational.
Hailer Horns

Clear, distortion free, waterproof deck horns are ideal for shipboard paging, hailing, fog horn and alarm systems. High impact plastic construction and assembled with stainless steel hardware.
8 Ohm.