PS Series Inverters
Input: 12 or 24 VDC
Output: 120 VAC,
1000 – 2000 Watts
The PS Series inverters produce high efficient, pure sine wave output from 12 or 24 volt battery input with high surge power for motor start making it ideal for marine applications. A power saving mode, with user friendly adjustable set points, conserves batteries when not in use. A remote control/display panel and front panel indicator lights allows for easy analysis and control.
Learn More About the PS Series Inverters
Torque Series Inverter-Charger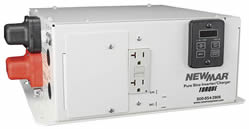 Input: 12 or 24 VDC
Output: 115 VAC, 60Hz.,
1000 – 3600 Watts
The "Torque" Series (TQ) incorporates all the ruggedness and reliability of the perfect wave series but with upgraded electronics that provide higher peak power, efficiency, protection and a high power density resulting in a reduction in case size. Diagnostic monitor panel with power limit programming is built-in with an optional full function LCD text display.
Six models for use with 12 and 24 volt battery systems provide continuous rated AC power ranging from 1000 to 3600 watts at 115 VAC-60 Hz., and battery charging 60 – 150 amps