Standard Series: Single and Double Pole – "A" Frame Size
Fit all NEWMAR electrical panels, as well as most other brands
Feature magnetic-hydraulic "trip-free" mechanism 5-30 amp rated to 65 VDC or 277 VAC; 40 and 50 amp rated to 32 VDC or 120 VAC (See rating note below).
Mounting screws not provide order separately
#10 screw terminals on rear for wiring
All circuit breakers offered by NEWMAR are UL recognized.
Black toggle handles
Single pole values: 5, 10, 15, 20, 25, 30, 40 or 50 amp.
Double pole values: 15, 20, 30 or 50 amp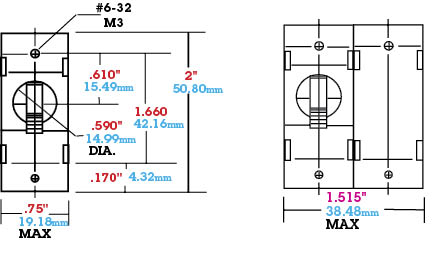 High Amperage Series:
Single Pole "C" Frame Size
Rated for up to 65 VDC or 120/240 VAC service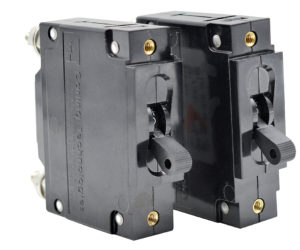 Feature auxiliary contacts for optional remote monitoring of circuit breaker status (Form C)
1/4" studs on rear for wiring

Options
Current rating of 75 or 100 amps
Black toggle handle
Two 6-32 screws required for mounting; not included – order separately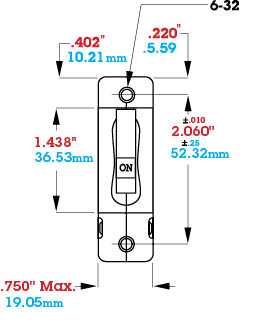 [/cs_text][x_line style="border-top-width: 1px;"][cs_text]
High Amperage Series:
Double Pole "C" Frame Size
30, 50, or 100 amp
Black toggle handle
Dual black toggle handle with tie-bar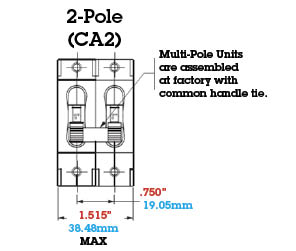 High Current Fuses/Fuseblocks
Essential safety item for all inverter installations and other high amperage DC circuit over-current protection.

Features
Heavy duty 500 amp, insulated, compact fuse block with corrosion-resistant 5/16" studs
Secures to surface with two #10 flat head screws or bolts (not included)
Clear lexan cover insulates conductive parts, per ABYC/USCG requirements
Accepts industry standard ANL tin-plated copper fuses. Purchase separately.
See-through mica element for easy identification of blown fuse
Learn more about High Current Fuses/Fuseblocks
[/cs_text][x_line style="border-top-width: 1px;"][cs_text]
Waterproof High Amperage Circuit Breakers 
Combines switching and circuit breaker function in one unit
Compact size and surface mount configuration protects high amperage circuits at virtually any location: ideal for windlass, bow thrusters, high power feeds to distribution panels in boat and trucks
Trip delay curve accommodates high surge amperage for motor start
Push to disconnect button de-energizes circuit for maintenance
Latch arm resets breaker after overload, but cannot be held
in "ON" position if short remains on circuit
Learn more about Waterproof High Amperage Circuit Breakers