An AC source selector switch is an essential item for any vessel with an on-board AC generator and/or inverter. By isolating power source inputs, the switch eliminates the safety hazard and/or damage that can occur if two AC sources are applied to the same circuit simultaneously.
These switches are fitted with a compact escutcheon plate with engraved switch position nomenclature.
The switches carry cUL approval, are CE marked, and feature heavy duty contacts and a positive step cam mechanism for low resistance contact closure. May be rear mounted in panel with thickness up to 1/4".
Instruction Manuals:
Model
Amperage @
115/230V
Number
of Poles
Switch
Positions
Standard Plate
Markings
Depth
Dimensions
SS-3.0
30
2
2 + "OFF"
SHIP-OFF-SHORE
2-1/8"
SS-7.5
63
2
2 + "OFF"
SHIP-OFF-SHORE
2-3/8"
SS-7.5 INV †
63
2
3 + "OFF"
OFF-GEN-INV-SHORE
3-1/2"
SS-15*
126
2
2 + "OFF"
SHIP-OFF-SHORE
4"
* May be configured as a 63 amp, 4 pole switch
† For vessels with onboard generator and inverter
Mounting Flange Dimensions
All Standard Switches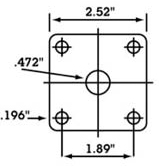 If none of the standard switches listed above meet your requirements, Newmar will custom configure an AC selector switch for you. Please allow 2 weeks for shipment. Contact factory for pricing.
1) Determine the following:
A) Amperage/kW rating required
B) Number of switch positions required
C) Number of poles required
2) Use the chart below to determine model number
Amperage/kw Rating
@ 120 VAC
2 Position Plus Off
3 Position Plus Off
4 Position Plus Off
2 Pole
3 Pole
2 Pole
3 Pole
2 Pole
3 Pole
63 Amp (7.5 kw)
SS-7.5
S-632
S-623
S-633
S-624
S-634
80 Amp (10 kw)
S-822
S-832
S-823
S-833
S-824
S-834
100 Amp (12.5 kw)
S-1022
S-1032
S-1023
S-1033
S-1024
S-1034
125 Amp (15.5 kw)
SS-15
S-1232
S-1223
S-1233
S-1224
S-1234
3) Select the desired switch selector position labeling:
SHORE
GEN PORT
SHORE
PORT GEN
SHORE 1
GEN 1
STBD SHORE
STBD GEN
SHORE 2
GEN 2
INV
or specify the position labeling you require.
Mounting Flange Dimensions
Special Order Switches
63 and 80 amp special order switches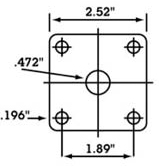 100 and 125 amp special order switches